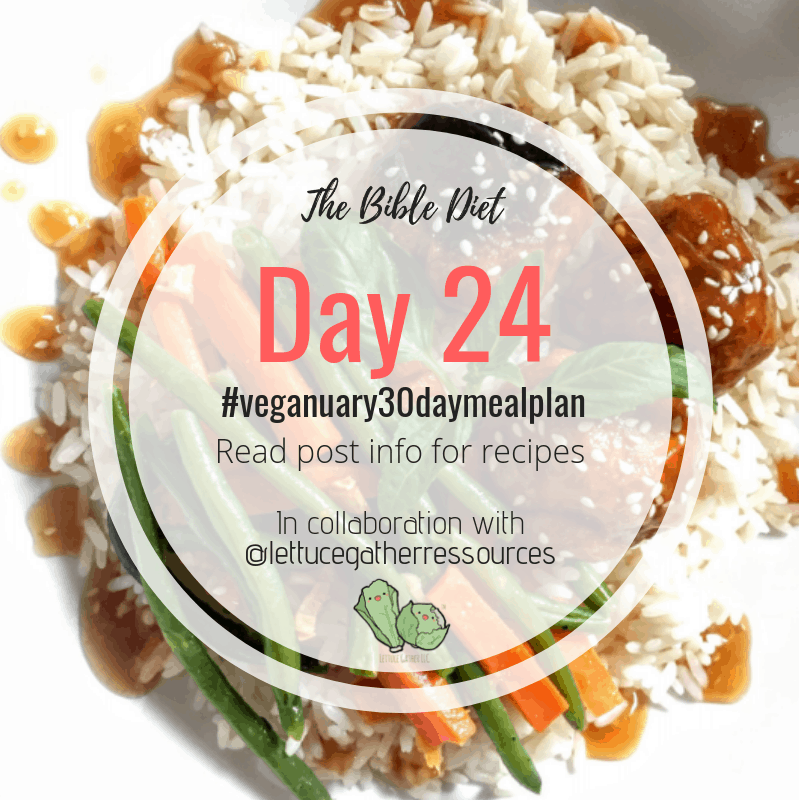 Grocery list for the week: click here
Day 22 – Day 23 – Day 25 – Day 26 – Day 27 – Day 28 – Day 29

Breakfast: Rest. eat the leftovers
Lunch: Rest. Eat the leftovers
Dinner: Stuffed baby peppers and Tofu no-meat balls and with ginger glaze
DINNER RECIPE
STUFFED BABY PEPPERS
Ingredients
12 (2 to 3-inch long) sweet baby
peppers
2 tablespoons olive oil
1/2 medium onion, finely chopped
2 cup rice
4 cups vegetable broth
1 can (16 oz) black beans
1 can (16 oz) corn
All purpose seasoning
Instructions
Preheat the oven to 350oF (170°C).
In a skillet, heat the oil over medium-high heat. Add onions and cook,
stirring occasionally until translucent. Add the beans, the corns, some all
purpose seasoning and cook for about 3 minutes.
Place the rice in a pot. Add the vegetable broth and bring to a boil. When the liquid comes to a boil, reduce to low heat and cover the pot.
Let it slowly cook, until all the liquid is gone.
Add the rice to the skillet mixture.
Using a knife, cut 1/2-inch from the stem-end of the peppers. Remove
the seeds and veins. Fill each pepper with the rice mixture, using a
small dessert spoon. Place the filled peppers on the prepared baking
sheet and bake for 15 to 18 minutes until the peppers begin to soften.
TOFU NO-MEAT BALLS with GINGER GLAZE
Ingredients
(12oz) pkg. extra firm tofu, drained
1/2 medium onion, chopped
1 garlic clove, minced
1 1/4 cups panko breadcrumbs*
2 tbsp milk*
2 tbsp soy sauce
about 2 tbsp vegetable oil
Black pepper to taste
GINGER GLAZE
1/4 cup chilled water
1 tbsp cornstarch
1/4 cup soy sauce
2 tbsp rice vinegar
2 tbsp maple syrup
1 tsp sesame oil
2 tsp freshly ginger, grated
Sesame seeds
Instructions
Preheat oven to 375oF (190°C).
Place tofu, onion, garlic, panko, milk, soy sauce, and pepper into a food
processor bowl. Pulse until well mixed and crumbly. Roll into several
balls. Place the balls on a baking sheet lined with parchment and
brushed with some oil.
Bake 30 minutes, turning about halfway through.
While the meatballs bake, stir chilled water and cornstarch together in
a small cup. Place the soy sauce, vinegar, maple syrup, sesame oil and
ginger in a small pot. Bring just to a simmer, and stir in cornstarch
mixture. Continue to simmer, stirring, just until mixture thickens, about
1 minute. Remove from heat.
Pour the glaze over the meatballs and sprinkle with sesame seeds.
Day 22 – Day 23 – Day 25 – Day 26 – Day 27 – Day 28 – Day 29