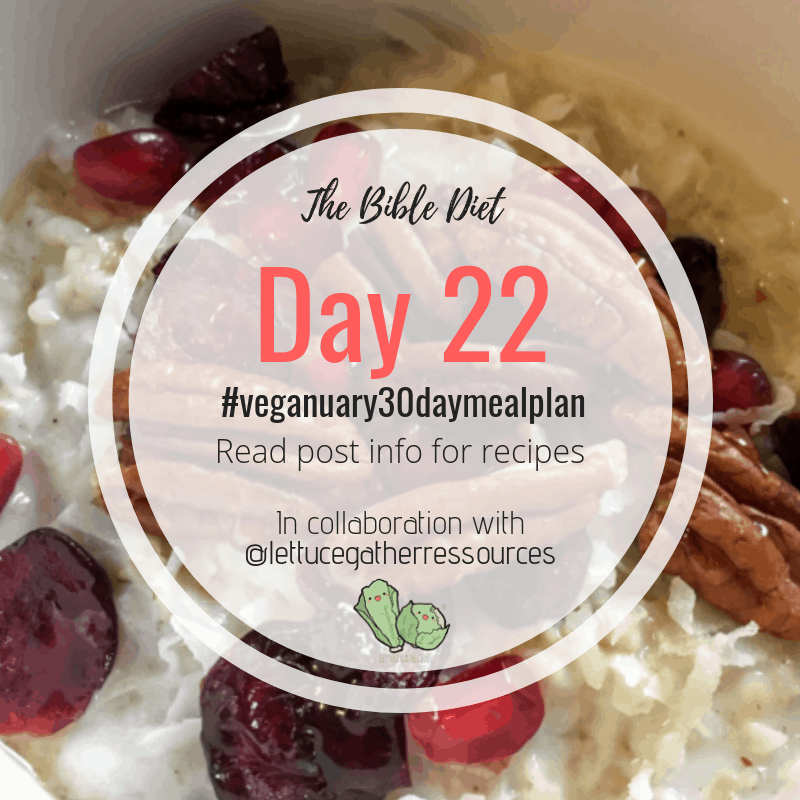 Grocery list for the week: click here
Day 23 – Day 24 – Day 25 – Day 26 – Day 27 – Day 28 – Day 29
Breakfast: Vanilla Oatmeal with cranberries and pecans
Lunch: Spinash rice and sesame seared tofu
Dinner: Soup Grand-mère
BREAKFAST RECIPE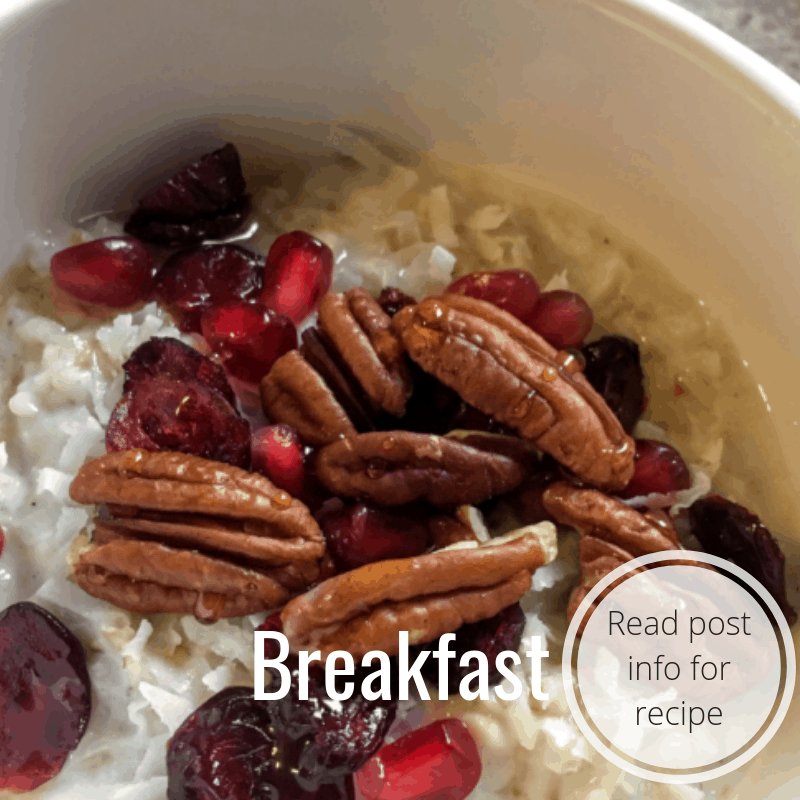 Ingredients:
1 cup rolled oats
2 tbsp honey, maple sirop or agave sirop
1 tsp pure vanilla extract
1 cup vegetal milk of your choice (almond, rice…)
1/4 cup dry cranberries
1/4 cup pomegranate seeds
1/4 cup pecan nut
1/4 cup coconut flakes
Instructions:
Add the milk, rolled oat, honey (or other syrup) in a medium pot and cook for about 10 minutes on low-medium fire. And let it cool down. Top with coconut flakes, pecan nuts, dry cranberries and pomegranate seeds.
(You can also make this recipe overnight: Combine all ingredients in a container. Close the container and shake until well combined. Place in the refrigerator overnight.)
LUNCH RECIPE
Spinach rice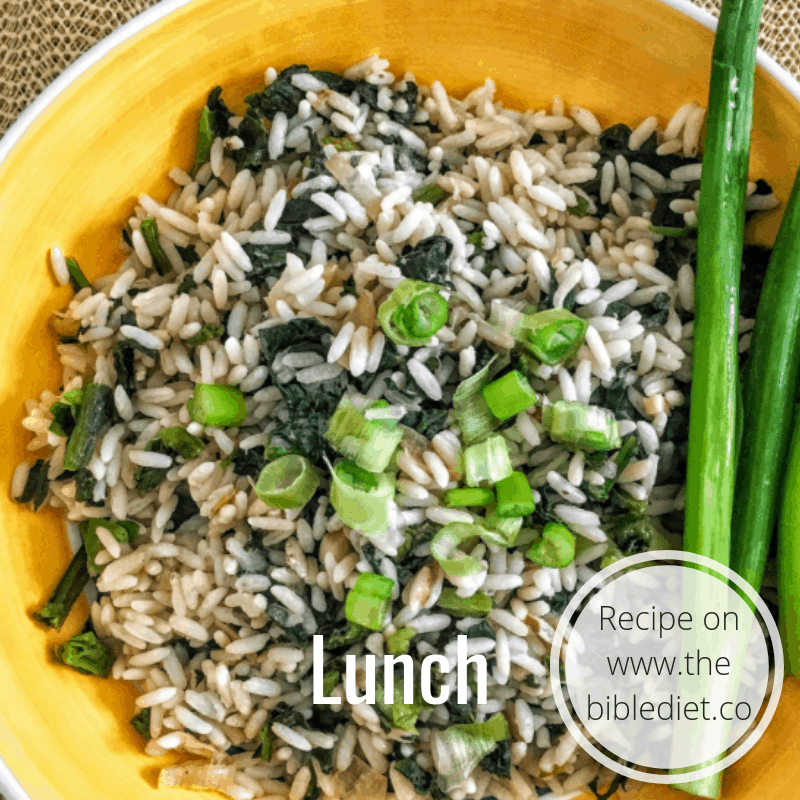 Ingredients:
2 cups spinach, washed, trimmed & cut
3 garlic cloves, minced
1 medium onion, chopped
1 scallion, stripped & chopped
2 cups rice
1 tbsp extra virgin olive oil
1 1/2 cup coconut milk
2 cups vegetable broth**
Salt & pepper
Instructions:
Heat olive oil in a skillet over medium heat. Add onions and cook,
stirring occasionally until translucent. Add the garlic and scallions and let it gently cook for about 3 minutes.
Add the spinach to the pan and stir well.
Add the rice to the pot. Now you can add the coconut milk and the vegetable broth or water into the pot and bring to a boil. When the pot comes to a boil, reduce to low heat and cover the pot. Let it slowly cook, until all the liquid is gone. Mix up all the cooked ingredients together.
Sesame seared tofu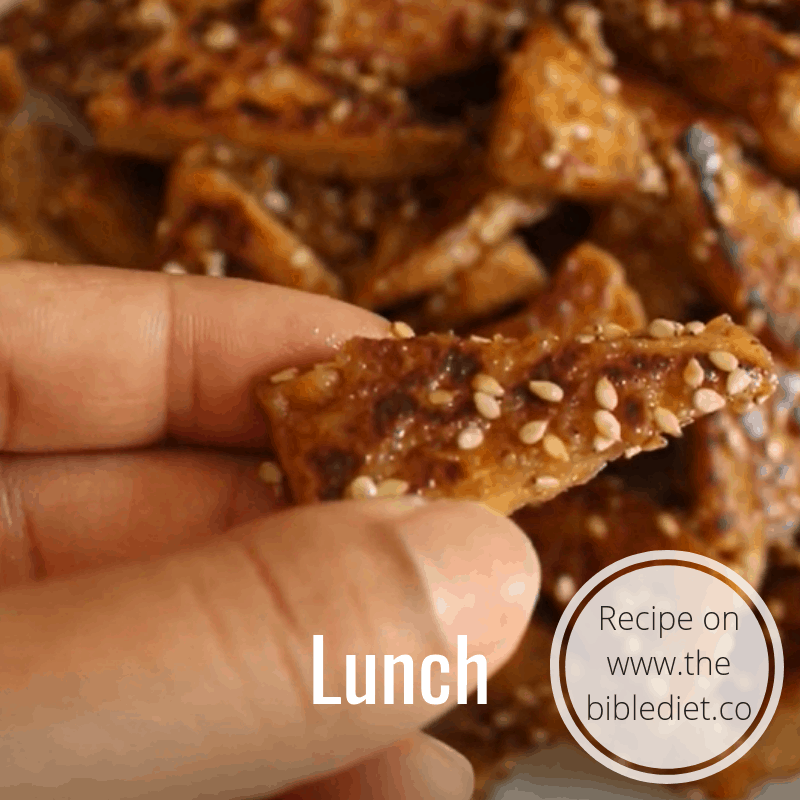 Ingredients:
12 oz extra firm tofu, drained
1 tbsp cornstarch
2 tsp canola oil
1 tsp sesame oil
1/2 cup vegetable broth
2 tsp tamari
Toasted sesame seeds
Basil leaves
Instructions:
Pat dry the tofu very well with paper towels. Cut tofu into 4
rectangular slices. Cut each slice diagonally to make 8 triangles.
Sprinkle slices lightly with cornstarch, turning gently to coat.
In a medium skillet heat canola oil over medium-high heat. Add the sesame oil, and stir. Add the tofu to the skillet; cook about 2 minutes per side until lightly browned, turning carefully to prevent it from breaking. Add broth and soy sauce to skillet. Bring to boiling; reduce heat to medium. Simmer 3 to 5 minutes or until liquid reduces to thickened consistency, spooning tofu slices with cooking liquid occasionally.
Transfer to a platter, sprinkle with sesame seeds and basil leaves while still hot.
DINNER RECIPE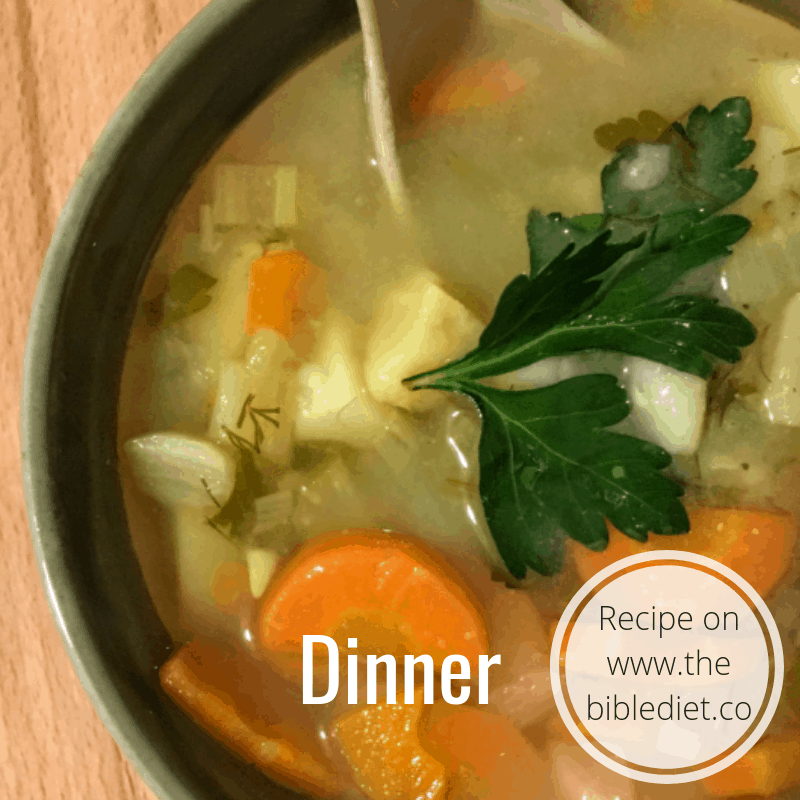 Ingredient:
1 rib celery, chopped
2 medium carrots, peeled & chopped
1/2 leek, stripped & chopped
1 medium onion, chopped
1 turnip, peeled & chopped
1 parsnip, peeled & chopped
1 branch of dill
1 branch of parsley
1 tsp apple cider vinegar
1 tbsp olive oil
1 bay leaf
5 cups water
All purpose seasoning
Instructions:
Heat oil in a large soup pot. Add the chopped onion. Cook on medium
heat, stirring occasionally until onions are soft.
Add the rest of the vegetables and heat for 2 minutes.
Add all-purpose seasoning, dill, and parsley, stirring to coat the
vegetables well.
Add bay leaf, water, and bring to a simmer, and let it cook until the
vegetables are soft.
At the end add the tsp of apple cider vinegar to give the soup just a
little bit of acidity and to balance its taste.
Day 23 – Day 24 – Day 25 – Day 26 – Day 27 – Day 28 – Day 29