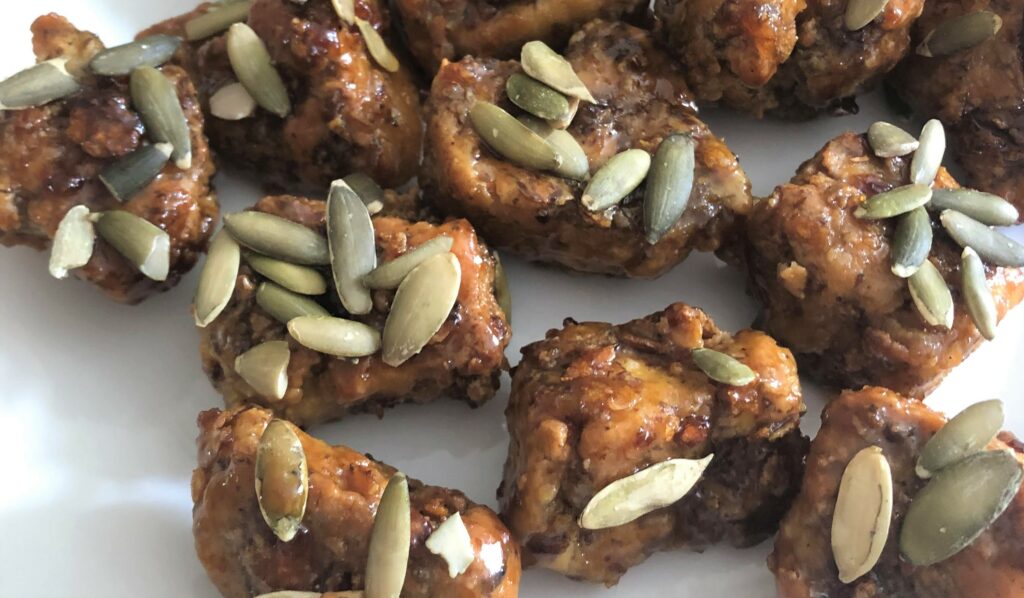 Why do I love this meat substitute recipe?
This honey butter vegan fried chicken is the bomb! I found this recipe on Mary's test kitchen website, and I'm so happy because so far it is the best meat substitute recipe I have tried. It is totally fabulous! The outside is crunchy, and the inside looks and tastes almost like chicken. All the meat eaters I know who tried this recipe really loved it. There was a lady during my cooking class who told me that she can't stand the sensation of tofu in her mouth and she was very skeptical because I showed her the recipe. When she tasted a piece of this vegan fried chicken recipe, she was amazed and with a big smile she said: "this is delicious, it tastes like chicken". If you are trying to transition from a meat-eating diet to a vegetarian diet, this is a recipe you must try!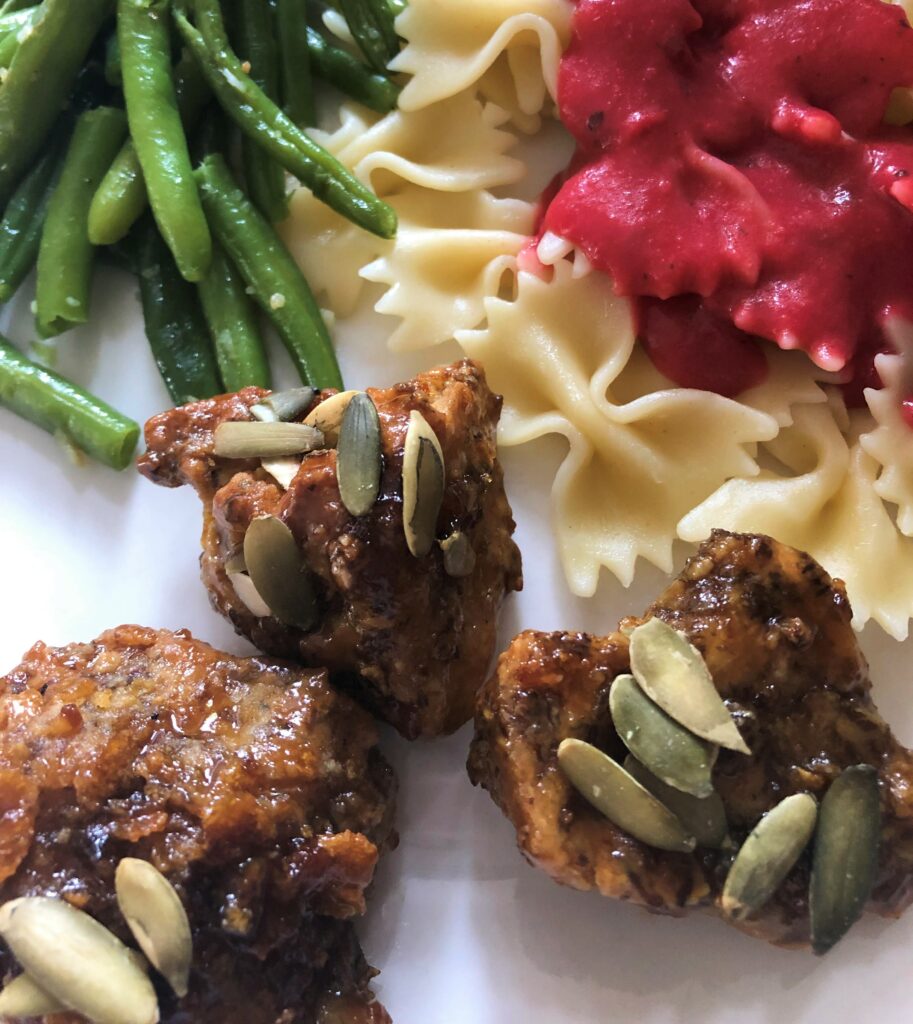 Recipe
Ingredients

1 16 oz medium firm tofu
4 tbsp flaxseed meal
12 tbsp water
1 cup vegan Chicken broth (click here for recipe)
2 cups flour
2 tbsp nutritional yeast
2 tsp salt
2 tsp onion powder
2 tsp garlic powder
1 tsp black pepper
1 cup plain corn flakes (not frosted and non GMO)
1 Olive oil or coconut oil cooking spray
Instructions
Freeze medium firm tofu twice in its unopened package. Just place the whole package of medium firm tofu (packed in water) in the freezer. Freeze, then thaw, and freeze, and thaw again. Open the package, and press the water out. (The ice that forms in the tofu creates pockets so when it thaws). Then when marinating the tofu, it can absorb much more flavour than before. If done properly, it is totally safe to freeze and thaw the tofu twice. You can find details from the USDA website: www.usda.gov).

Make a flax egg by mixing 4 tbsp of flaxseed meal to 12 tbsp water, and let it sit for 10 minutes.
Gently cut small pieces of tofu with your hand.
Put the pieces of tofu in the vegan chicken broth and let it sit for a few minutes.
Season your flour with the nutritional yeast, the onion and garlic powder, the black pepper and the salt.
Gently drain the tofu piece in an absorbing cloth, delicately coat them with flour, and shake the excess off. If it falls apart it's ok, just try to put the pieces back together and they will stick together during the cooking.
Add the corn flakes to the rest of the flour and crush them a little.
Dump the tofu piece in the flax egg so that it is covered well.
Roll them into the crunchy seasoned flour and place them in an air fryer basket or a baking sheet.
Spray on a good amount of oil on them.
Bake at 425 degrees for 30 minutes, flipping the pieces halfway. Or 20 min at 400 in an air fryer flipping halfway.

While the honey butter sauce (made with vegan honey) is still hot, add the cooked vegan fried chicken pieces, coat well. Immediately, add the pieces to a rack so that the pieces don't become soggy, and add some pumpkin seeds at the top to decorate.