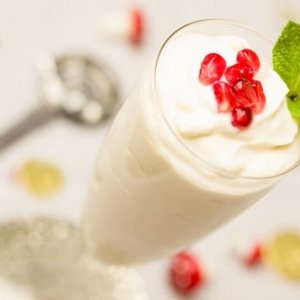 Dairy Free yogurt
Ingredients
2

cans full-fat coconut milk

1

tablespoon

agar agar flakes

not powder

1

tablespoon

maple syrup or agave syrup

1

teaspoon

probiotic powder
Instructions
Sterilize all your equipment in boiling water to prevent any bacteria to form on the yogurt.

Boil the coconut milk and agar agar flakes, stirring often to dissolve the agar agar flakes. Once the milk is really starting to boil (you can also take the temperature with a cooking thermometer, it should show 180ºF), remove the pot from the heat and stir well.

Add the maple or agave syrup and stir well. When the mixture has cooled down a little (to 110-115ºF, or you can use your clean finger to check, it should be warm but not too hot to the point it would hurt your finger), add in the probiotic powder and stir well.

Place the mixture in a jar seal it with a lid and wrap it in a towel to keep it insulated. Place it in a warm place such as an oven with only the light on. Make sure that the temperature doesn't go over 115ºF because it could kill the good bacteria. Let it ferment for 18-24 hours.