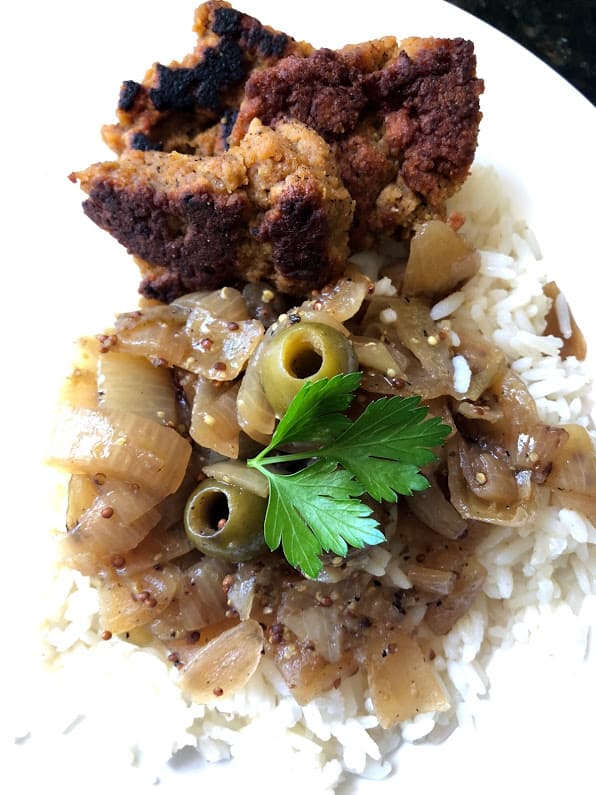 Ingredients
Vegan chicken nuggets
1 cup vital wheat gluten
2 tbsp nutritional yeast
1 tsp onion powder
½ tsp salt
½ tsp all purpose seasoning
¼ cup tahini
4 cups of vegetable broth, for cooking
Quick microwave rice
2 cups of rice (I personnally prefer the jasmine rice for this recipe)
1 tbsp olive oil
1 tsp sea salt
Sauce
5 medium onions, chopped
2 tbsp French mustard (with the grains)
1/2 cup green olives
1 tsbp vigenar (any)
The juice of 1/2 lemon
4 tbsp olive oil
1 tbsp vegetal butter
2 tbsp water
Fresh parsley
Salt and pepper to taste
Instructions
Vegan Chicken nuggets
In a mixing bowl, mix together the wheat gluten, nutritional yeast, onion powder, and all-purpose seasoning
In a large bowl, place ¾ cup broth and tahini and whisk until the consistency is smooth
Mix the dry ingredients and the wet together and stir well
Knead the dough until it is elastic
Divide the dough into small little nuggets
Put the nuggets in a baking dish and put remaining vegetable broth over it and cover with some foil paper.
Cook for 40 minutes in the oven at 350 degrees, flip the nuggets and cook for an additional 20 minutes.
Quick microwave rice
In a large pyrex bowl warm up 4 cups of water in the microwave for 5 minutes
Add the rice, oil and salt and microwave for 10 minutes
Depending on the microwave power you might need to microwave the rice for a little longer. If it is the case stir up the rice, and microwave for 5 to 10 more minutes.
Sauce
In a large pan, add olive oil, vegetal butter, some salt and the onions, stir and cook on medium heat
When the onions start the brown, lower the the heat and cook for about 10 minutes
Then add the vinegar, mustard, lemon juice, salt and pepper (to taste) and parsley and stir with the onions. Let it cook on low heat for 3 minutes.
Add the water, olive oil, and green olive and cook for 5 more minutes. The onions should be soft, sweet and a little acid, and the sauce should be tasty.