TOTAL: 75 MINUTES, SERVES 10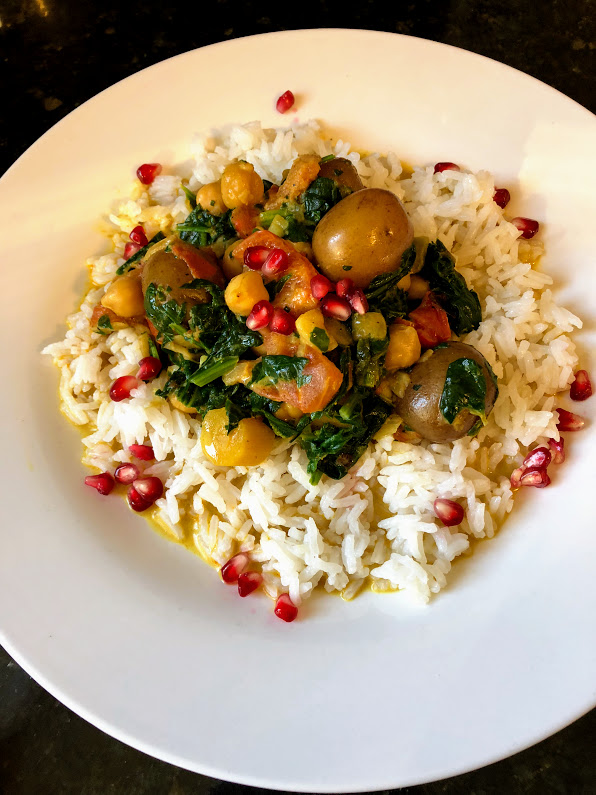 Ingredients
1

 

tbsp

 

olive oil

1

 

whole

 

large onion, diced

1 tsp 

salt

1

 

tbsp

 

curry powder

1

 

tbsp

 

brown sugar

1

 tbsp

 peeled and grated ginger

3

 

whole

 

garlic cloves, minced

1 tbsp all-purpose seasoning

1/4

 

tsp

 

black pepper

1/8

 

tsp

 

cayenne pepper

1/2

 

cup

 

water

1.5 lbs baby potatoes

2 c

ups

 

chickpeas,

 

drained and rinsed

1 

whole

 

red bell peppers,

 

diced

4 carots, peeled and choped
1 big tomato, diced

10

 

oz

 

baby spinach

13.5

 

oz

 

coconut milk,

 

full fat

Cooked jasmin rice (or quinoa)
Instructions
Heat the olive oil in the bottom of a large pan over medium heat. Add the onion with 1 tsp of salt and cook until the onions are translucent.
Add 1/2 tbsp all-purpose seasoning, the brown sugar, the curry, the ginger, the garlic, the black pepper and the cayenne powder and stir well until fragrant. Pour in the water and stir again.
Add the baby potatoes, the carrots, the chickpeas, the red pepper,  the tomato and 1/2 tbsp all-purpose seasoning. Stir well and bring to a boil. Cover and let simmer for about 50 minutes, until the vegetables are tender.
Add the coconut milk and the baby spinash. You can add some salt and pepper at your taste. Serve with jasmine rice or quinoa.