God cares about our physical, mental and spiritual health and here are 4 good reasons why.
1- Because He loves us and He wants us to be well
The Bible contains many verses that teach us how much God loves us. Here are a few of them:
⦁ John 3:16: "For God so loved the world, that he gave his only begotten Son, that whosoever believeth in him should not perish, but have everlasting life."

⦁ 1 John 4:19:  "We love him because he first loved us."

⦁ 1 John 4:8: "He that loveth not knoweth not God; for God is love."

⦁ Psalm 103:8: "The LORD is merciful and gracious, slow to anger, and plenteous in mercy."

⦁ Isaiah 41:10 "Fear thou not; for I am with thee: be not dismayed; for I am thy God: I will strengthen thee; yea, I will help thee; yea, I will uphold thee with the right hand of my righteousness."

⦁ Revelation 21:4: "And God shall wipe away all tears from their eyes; and there shall be no more death, neither sorrow, nor crying, neither shall there be any more pain: for the former things are passed away."

⦁ Matthew 4:23: "And Jesus went about all Galilee, teaching in their synagogues, and preaching the gospel of the kingdom, and healing all manner of sickness and all manner of disease among the people."

⦁ 3 John 2: "Beloved, I wish above all things that thou mayest prosper and be in health, even as thy soul prospereth."

⦁ John 10:10: "The thief cometh not, but for to steal, and to kill, and to destroy: I am come that they might have life, and that they might have it more abundantly."
This text is taken from The Bible Diet Book. Learn more.
This text is taken from "the Bible Diet" book.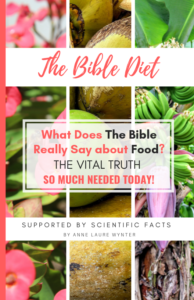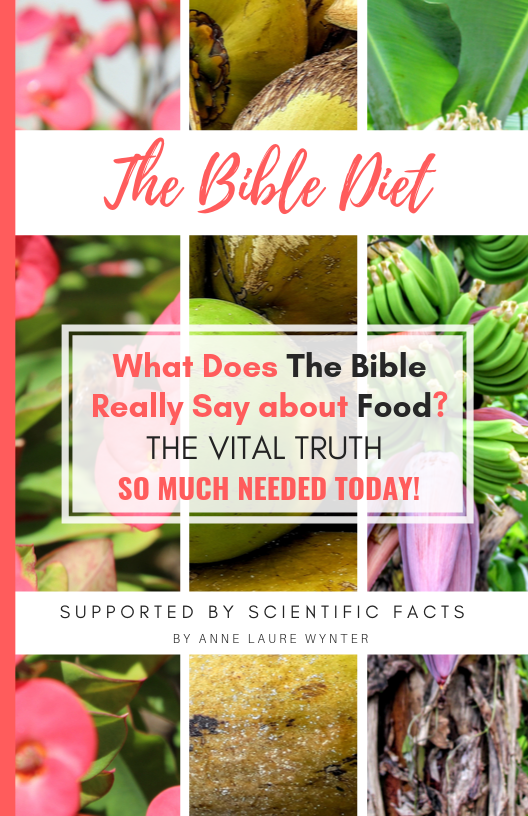 You can order a printed copy of the book by clicking here or access the digital copy of the book for free by clicking here.
2- Because He communicates to us through our brain
God communicates with us in many ways such as through His words in the Bible, His spirit, prayer, and even through other people, nature, music, or circumstances. But without a brain, we could not hear, see, feel, and therefor communicate and understand.
The brain is an organ, and all our good emotions, feelings, mood, decisions, and energy depends on the good health of our brain. It is also obvious that if our mind is clear, it is easier to pay attention and understand things. The food we eat has an impact on our brain health. By eating healthy, it is easier to hear God's calling, to understand the words of the Bible and to be a witness for the lord.
We'll also be happier, and will positively shine our light upon others. Of course, there are so many temptations out there when it comes to eating or drinking, and the Devil is making this bad temptation look good and even sometimes look healthy, and he is using them to put a barrier between us and God. We have to remember that he is the king of lies and deceptions, and for every truth, he has many counterfeits.
"And the serpent said unto the woman, Ye shall not surely die: For God doth know that in the day ye eat thereof, then your eyes shall be opened, and ye shall be as gods, knowing good and evil." – Genesis 3:4-5

"And no marvel; for Satan himself is transformed into an angel of light." – 2 Corinthians 11:14

"For there shall arise false Christs, and false prophets, and shall show great signs and wonders; insomuch that, if it were possible, they shall deceive the very elect." – Matthew 24:24
3- Because He made us and we are His children
"So God created man in his own image, in the image of God created he him; male and female created he them." – Genesis 1:27
Every creation needs a creator. God made us with an intelligence we can't even imagine. Our bodies are such that even the wisest scientists in our world can't know everything about it. "The Creator of man has arranged the living machinery of our bodies.
Every function is wonderfully and wisely made. And God pledged Himself to keep this human machinery in healthful action if the human agent will obey His laws and cooperate with Him. We may behold and admire the work of God in the natural world, but the human habitation is the most wonderful" – Ellen G White (Counsels on Diet and Foods).
4- Because our body is the temple of the holy spirit
We have been purchased at a price, not with money or gold, but with the blood of Jesus Christ. Our bodies are not our own and we have to use them to glorify and honor God, as the Holy Spirit resides in us. Christ's blood purchased us out of the slavery of sin to set us free.
"What? know ye not that your body is the temple of the Holy Ghost which is in you, which ye have of God, and ye are not your own? For ye are bought with a price: therefore glorify God in your body, and in your spirit, which are God's." – 1 Corinthians 6:19- 20

"I beseech you therefore, brethren, by the mercies of God, that ye present your bodies a living sacrifice, holy, acceptable unto God, which is your reasonable service." – Romans 12:1

"Forasmuch as ye know that ye were not redeemed with corruptible things, as silver and gold, from your vain conversation received by tradition from your fathers; But with the precious blood of Christ, as of a lamb without blemish and without spot" – 1 Peter 1:18-19

"Our bodies are Christ's purchased property, and we are not at liberty to do with them as we please. Man has done this. He has treated his body as if its laws had no penalty. Through perverted appetite, its organs and powers have become enfeebled, diseased, and crippled. And these results which Satan has brought about by his own specious temptations, he uses to taunt God with." – Ellen G White (Counsels on diet and foods)
Watch the video on Youtube: https://www.youtube.com/watch?v=HKf6RjNCbBA
The Bible Ends as it Begins & God's Promise